Veterinarians
Joseph Gainey, DVM - Owner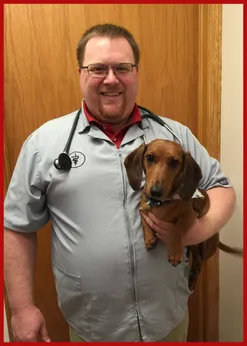 Dr.Gainey is a 2006 graduate of The Ohio State University College of Veterinary Medicine and the owner of Belpar Pet Care Centre and Uniontown Veterinary Clinic. In December 2009, he and his wife, Angela, moved to Uniontown and purchased the Uniontown practice and in 2012 he then purchased Belpar. Prior to moving to Uniontown, he had practiced in Dover and Salem, Ohio where he worked with a wide array of medical and surgical cases. Dr. Gainey's passion for animals comes from growing up on a dairy farm in Holmes County, Ohio. He was raised around holstein dairy cattle, horses, dogs, cats, chickens and pigs. To this day, he does his best to find time to visit his mother, who is an avid rider, and enjoys riding his horse "L.B." His veterinary interests are in soft tissue and laser surgery, preventative care and chemotherapy. Dr. Gainey has been trained in Regenerative Therapies and Joint Injection by The Veterinarian and Orthopedic Sports Medicine Group. He has pursued regenerative medicine because pets are living longer and need the same cutting-edge treatment that humans have available. He and Angela have 5 four-legged children; Benson, Honza, Annabelle, Watson and Holmes.
---
Vedessa Meluch, DVM, CCRP, CCMT, CVA
Vedessa Meluch is a 2005 graduate from the University of Southern Mindanao, Philippines. While in the Philippines, she studied zoo and swine nutrition along with animal conservation. After shortly moving to the United States, she attended the University of Guelph in Ontario, Canada for an intense year of skills and enhancement training in small animal medicine. In 2016, Dr. Meluch became certified by the University of Tennessee to practice canine and feline physical rehabilitation. She also obtained extra curriculum for conservative management of canine and feline osteoarthritis. She has brought to Belpar Pet Care Centre alternative forms of relief and treatment for obesity, osteoarthropathy, post surgical recovery, relief of pain, and help pets with mobility for neuropathic and orthopedic pain. Dr. Meluch and her husband live on a farm and have many cows, horses, ducks and dogs. She spends her free time driving a big tractor while harvesting corn and hay. She isn't afraid of getting dirty and changing the oil on the tractors, as well!
---
Michael McAndrew, DVM
Dr. Michael McAndrew graduated from The Ohio State University College of Veterinary Medicine in 2019. He received his Bachelors degree in Animal Science and Biology from the University of Findlay. He enjoys internal medicine and surgery. He loves people, animals and biology, and veterinary medicine is a perfect combination. As a Canton native, he shadowed at Belpar Pet Care Center for 12 years prior to being hired! (Some of you might recognize him!) He knew that he wanted to become a veterinarian from a young age and is now working in the veterinary practice that he grew up with long ago. A fun fact about Dr. McAndrew is that he is SCUBA certified. Dr. McAndrew has a cat named "Schecter."
"There's no such thing as a silly question. Ask us; we won't bite!" - Dr. McAndrew
---
Deborah Simmonds, DVM
BIO AND PICTURE COMING SOON!
---
Mike Slawienski, DVM, DACVS
Dr. Mike Slawienski s a Board Certified Surgeon who has worked in the Cleveland/Akron area for several years. He is available for advanced/complex surgical procedures on dogs and cats on a scheduled basis. Orthopedics/joint surgery, fracture repair, soft-tissue surgery, oncology surgery, neurosurgery and other complex surgical procedures can be performed on premesis. After a diagnosis has been made by one of our doctors and surgery has been recommended, we will schedule an appointment for you to meet with Dr. Slawienski in the morning and surgery will take place that day. In most cases, your pet will go home that evening.
Dr. Slawienski is a native of Buffalo, New York. He received his Bachelor of Science degree in Animal Science from Cornell University and his Doctor of Veterinary Medicine degree from Iowa State University in 1992. He completed an internship in small animal medicine and surgery at West Los Angeles Animal Hospital and trained as a resident in veterinary surgery at the prestigious Animal Medical Center in New York City. He became a Diplomate of the American College of Veterinary Surgeons in 1999. Dr. Mike practiced at Associated Veterinary Specialists in St. Louis before moving to Ohio with his family in 2004. He has provided soft tissue, neurologic and orthopedic specialty surgeries for patients of veterinary hospitals in Northeast Ohio and surrounding areas since that time. Dr. Mike is an avid homebrewer and as a BJCP certified judge has judged beer competitions nationally and abroad. Dr. Mike enjoys spending time with his three young wonderful children and his wife and his dog Roux and cat Shadow.
---
Our Clinic Mascots
Kitty
Kitty came to us the summer of 2012 after being hit by a car and had a broken pelvis and tail. After extensive therapy, she had to have her tail amputated due to the severity of the break. In her free time, Kitty enjoys napping in our break room on a chair, drinking water out of a faucet and hiding in random places and popping out when she wants to catch us off guard! She has a new talent of knocking on doors to have us open them for her. She has such a big personality for such a little girl.
---
Jack
Jack joined our Belpar family in June 2014. His mother was moving into assisted living and could not take him with her. We tried to find Jack a home, but we quickly realized his home was with us! This sweet boy was used to being an indoor/outdoor kitty, so during the day, he has to stay in our back offices, otherwise, he would venture outside once a door opened! We do walk him outside frequently, and his favorite thing is eating grass! Jack loves taking his "cat" naps and being very vocal!
---
OUR STAFF
ANGELA, CVPM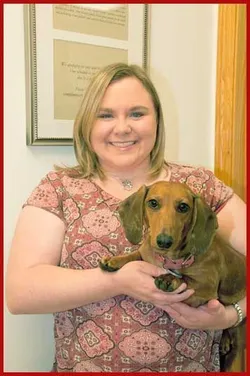 Angela serves as our Practice Administrator along with being a certified Veterinary Practice Manager, Interpersonal Communications & Business Administration. Ang has over 10 years experience in the veterinary field. She believes the human animal bond is so amazing. Helping pet owners give their pet the happiest, healthiest, longest life possible is very rewarding to her soul. In her spare time, she enjoys traveling, reading, quilting and crafts. In 2014, she was honored to be named Business Professional of the year by the Lake Township Chamber of Commerce. She and her husband, Dr.Joe Gainey, have 5 dachshunds; Benson, Annabelle, Honza, Watson and Holmes. They also are very proud parents of a kiddo in the U.S. Navy.
"Pet Insurance! JUST DO IT. It pays for itself and allows you to choose the care you want for your pet. No more balancing care with cost! " - Ang
---
SHELLY, OFFICE MANAGER
Shelly is our Lead Receptionist and Office Manager. She has been employed at Belpar Pet Care Centre since 1991 and has been an asset to our office. You may not see her as much as before, that's because she does a lot of behind the scene work such as: inventory for entire office & payroll. Shelly enjoys being part of a team that gets along well and has a common goal of caring for pets. Working in the veterinary field is one of the greatest accomplishments of her life. She enjoys seeing all the dogs and cats come into the office when they receive routine and life saving help and seeing thankfullness in their eyes. Shelly states, "Working at Belpar isn't "work" when its doing what you love." She considers Belpar as her second home. She and her husband, Jeff, enjoy taking cruises on her time off, going to the movies, eating out and relaxing at home. A fun fact about Shelly is that with 2 artificial hips, she still can't dance! Shelly has a kitty named Eclipse and Cheyenne a red Doberman.
"It's a good idea to do research on costs of pets prior to getting one. Food, regular medical care and insurance all should be factors in your decision on affordability." - Shelly
---
SARAH
Sarah joined our team in September 2012 and helps at the front desk and with marketing at both Belpar Pet Care Centre and at our sister clinic, Uniontown Veterinary Clinic. In her spare time, she enjoys sewing, reading, doing anything crafty, being outdoors, and working on home renovations with her husband. She and her husband have 2 beautiful daughters and a rescue Bernese Mountain Dog, Layne - from BARC, INC. and enjoys spending as much time with them as possible. She enjoys working the in the veterinary field because by educating pet owners, it allows them to provide the best care for their pets and that is most important to her.
"Make sure to keep your pets up to date on their vaccinations and screenings to help guarantee their health!" -Sarah
---
JULIE, RVT
Julie graduated from the Veterinary Tech Program at Kent State in 2009. Julie previously served our country through active duty in the Army before earning her degree. Along with her 3 children, 4 grandchildren, she also has 8 dogs (Conway, Tornado, Boobie Rex, Bailey, Luna, Brookes, Louie and Thorton) and 5 cats (Johnny, Nala, Sarah Sue, Merel and Mac Daddy). She loves helping families with their fur babies and educating them .Julie is an active foster through Ohio Fuzzy Pawz, a local shih-tzu rescue. She enjoys reading and spending time with her family. Julie has been a valued member of our staff since 2010. She began working at our Uniontown location and transferred to Belpar in June 2012.
"Always spay & neuter your pets!" - Julie
---
KANDIS, RVT
Kandis joined our team in March 2019 as a Registered Veterinary Technician. She has an associates degree of applied science in veterinary technology from Ross College. She works in the veterinary field because she feels like she has always gravitated towards pets. This is what she feels that she was born to do and why she was put on this earth. She loves being an advocate for her patients. If she can make a difference in even one pet, then she feels like she has succeeded. In her spare time she enjoys being creative (painting, crocheting, etc), spending with her family and 2 nieces. A fun fact about her is that she shares the same birthday as her dad! (Best birthday gift ever!). Kandis and her fiance, Andrew, have 2 cats: Tyrion and Thumbs. She will be getting married in November 2022! (woohoo!)

"Please be nice to your vet staff! We love your pets just as much as you do and we are trying our best."- Kandis
---
NICOLE
Nicole joined our staff in July 2018. She is currently enrolled at Ross Medical College to become a Registered Veterinary Technician. She enjoys working in the animal field because she likes to be around animals and help them and their owners by making their lives better. In her spare time, she enjoys spending time with her family and her pets; Major (Newfoundland), Gracie (mixed breed) and Patches(Guinea Pig). Something really neat about Nicole is that she lived in the Bahamas for 3 years and home-schooled her 2 children.
---
KERRY

Kerry joined our front desk team in January 2021. She has had over 15 1/2 years experience working with animals. She loves her job for the slobbers and kisses of the loving pets she gets to see. She loves swimming and equestrian. She is also in the process of running a miniature horse carriage business. She has a dalmation named Sadie and a cat named Prism, along with many horses and farm animals.
"Call sooner than later when situations occur." - Kerry
---
TINA
Tina joined our staff in June 2020. She has been working in the veterinary field since 2003. She has 2 "Rottenweilers" as she says : Hank and Ava. In her spare time she enjoys traveling, beaches, boating and gardening. A fun fact about Tina is that her eye color tends to change on whatever color clothing she is wearing!
"Adopt - Don't shop!" - Tina

---
ABIGAIL
Abby joined our boarding staff in February 2021. She has been an important member of our Belpar family forever, since her mom is Julie our lead Technician! We are so lucky to have her on staff. Abby treats the animals as if they were her own. With her dry sense of humor, she brings a lot of laughs into the office. Her main hobby is eating food. She considers herself a single 4-legged mom of 3 - her 2 shih-tzus's Conway and Dicaprio and her cat(who thinks he's a dog) Waffles.
"Stay updated on your Rabies!" - Abby
---
RACHEL
Rachel joined our boarding staff in May 2021. She is currently enrolled at the University of Akron. She has 3 cats, Meow, Midnight and Twinkles and a dog named Snickers. She loves being around animals and taking care of them every day. Schoolwork tends to keep her busy in her "spare" time, but she also enjoys working out. She loves driving around in her Red Mustang.
---
HANNAH
Hannah is a recent graduate on Ross with over 3 years veterinary experience. She joined our team in February 2021. When she isn't working at the Humane Society and with us, Hannah enjoys the piano and hiking. She enjoys working with animals and helping those in need and putting good in the world. Fun fact about Hannah is that she is a vegetarian.
"Spay & Neuter your pets!" - Hannah

---
ALEJANDRA
Alejandra joined our team as an assistant in May 2021. She loves working in the veterinary field because she enjoys the fast paced environment, animals and the clients that she interacts with. She and her husband, Christian, were married in September 2020 and have 2 cats: Pepper and Nabi. Her infectious laugh can be heard throughout the clinic. In her spare time, she enjoys crafting, stationary and playing video games. Her whole vocabulary is "quotes" and she loves memes.
---
AMY
Amy joined our staff in July 2021. She is currently a student at Ross College for Veterinary Technology. She started working in the animal field because of her love for animals and being their "voice." In her spare time, Amy enjoys spending time with her 3 children (Hannah, Joe and Mason) her pets and watching Netflix. She has 2 dogs, Maddie and Buster and 2 cats, Cat-Cat and Jay Quan. A fun fact about Amy is that if she is listening to music in her car and has arrived at her destination and a good song is on, she will listen to the song in it's entirety before getting out.
---
KRISTEN
Kristen joined our reception staff in November 2022. She received her diploma in animal welfare management. She enjoys working with animals and learning everything about them. In her spare time she enjoys going to the park, playing soccer and tennis, cooking and baking. She and her boyfriend have 2 dogs, Hunter (Rottie Mix) and Chance (Pittbull Mix).
" Mosquitos are a year round issue. Make sure you keep your pet on prevention!" - Kristen
---
KAY
Kay joined our staff in Novermber 2022. She joined us to help with our boarding and also with reception. She has worked with animals since 2018 and loves it because she is a natural caretaker, of all things, but has always been drawn to animals of all varieties. The veterinary field allows her to do what she loves every single day. In her spare time, she considers herself an "unoffical" food critic and loves photography. She even used to take care of lions, tigers and bears daily! Oh my!! Kay and her husband have 7 fur babies: Laika, Echo, Diesel, Dactyl, Gene, Gwen and Ozzy.
"Flea and tick populations are not dormant during the winter months, our temperatures have not dropped low enough, year round prevention is a MUST!" - Kay

---
KERRI

BIO AND PICTURE COMING SOON!

---